A message from Larry Mize, Breeder & Owner
Old Hickory Kennels
All my life I have engaged in hunting and fishing. It has truly been my passion, right after my family.
My mother told me if I didn't quit hunting with my old bird dogs and concentrate more on school, I'd never graduate. Well, I believe that was the only time Mom was wrong. I even attended Three Rivers Junior College in Poplar Bluff, Missouri, while I began working for Wal-Mart right after high school and before I was drafted into the U. S. Army.
After my tour with Uncle Sam, I returned to Wal-Mart management for 22 years. During that time I was transferred to some great hunting states (Missouri, Arkansas, Kansas and Tennessee). I retired to Tennessee in 1992 where the hunting and fishing were great.
The decrease in the wild quail population, prompted me to begin Old Hickory Kennels. We raise and train some of the best pointing dogs in the south. We breed about 10 litters a year of German Shorthair Pointers. Breeding is done with one thing in mind – creating a great hunting dog and family companion that you will be proud of for years to come.
I also, have a few started dogs and finished dogs on hand most of the time.  For the past several years, I have had standing orders for finished dogs from a couple of the largest shooting preserves in the United States and Mexico.
Come by for a hunt and I guarantee you will have a great time and get in a little shooting practice. Check our Events Calendar to plan your trip.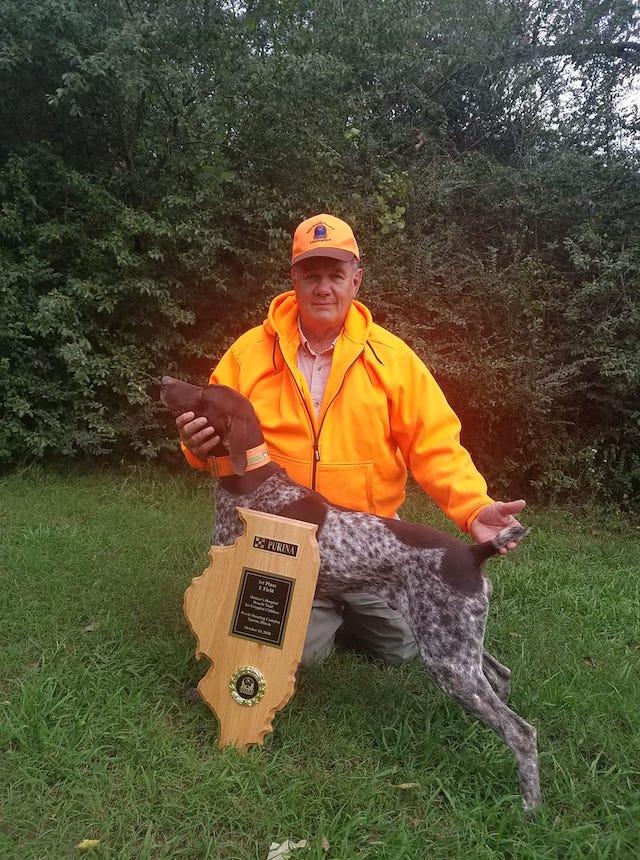 Owner Larry Mize has raised and trained champion German Shorthair Pointers for more than 40 years. A U.S. Veteran, Larry established Old Hickory Kennels in 1992. Larry is pictured here with five-time champion Beam Me Up Scotty.
He is a one-time Amateur Champion, three-time Open Champion and one-time American Bird Dog Classic Champion. Scotty won First Place in the 2019 Shriner's Benefit Hunt in Sparta, Illinois, and holds the 2021 First Place Mid-South Region Championship title.
Come see Scotty and and Larry complete in the major field trials.